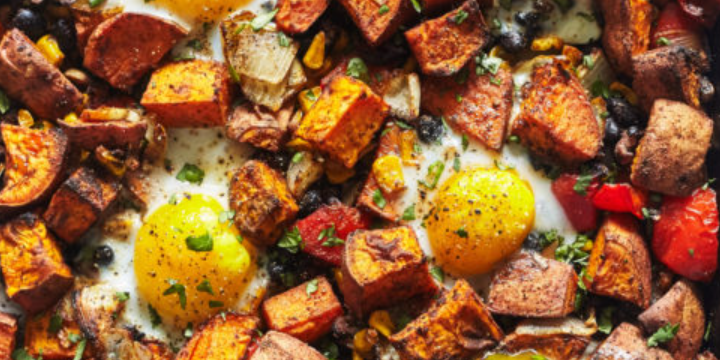 Sweet Potato Sheet Pan
PREP TIME
20
mins  | 
COOK TIME
45
mins   | 
TOTAL TIME
1
hr
5
mins
Servings

1 

serving

   | 

Calories

 

164

 

kcal |
Sweet Potato Sheet Pan dinners are flavorful, healthy and easy to prepare with minimal cleanup. This versatile, vibrant dish is a wonderful blend of sweet and savory flavors. Add sausage or chicken and you have an awesome well-rounded dinner!
Ingredient
2

 

large

 

sweet potatoes, peeled and cubed

½

 

white onion

 

roughly chopped (you can leave some layers together)

1

 

sweet bell pepper, diced

2

 

teaspoons

 

fresh rosemary, chopped

 

to mix in

1

 

clove 

garlic, minced

1

 

cup

 

green beans, cut

1-2

 

teaspoons

 

Italian seasoning

pepper to taste

1

 

tablespoon

 

butter, softened

2

 

sprigs

 

rosemary, to put on top

2

 

cups

 

brussels sprouts, ends cut off and any "bad" leaves peeled

1-2

 

tablespoons

 

olive oil

1

 

pinch

 

sea salt
Instructions
Line a rimmed baking sheet with tin foil and coat with cooking spray. Set aside.

Clean and prepare your vegetables for roasting (make sure to peel the brussels sprouts if needed). Cut vegetables (except sweet potatoes and brussels sprouts) into bite sized pieces.

Peel the washed sweet potatoes and cut into ¾ inch cubes.

In a large bowl, toss together sweet potatoes, onion, bell pepper, rosemary, garlic, carrots, green beans, mushrooms, Italian seasoning, pepper, oil and butter. A.dd one tablespoon of oil at a time until all the vegetables are coated.
Pour out onto one side of the lined baking sheet. Sprinkle with salt and place sprigs of rosemary (or your favorite herb) on top and set aside.
Cut brussels sprouts in half and mix them in that same bowl with oil. Pour out onto the other side of your baking sheet. Sprinkle with pepper and sea salt.
Bake at 400 for 35 to 45 minutes, or until potatoes are crisp tender with some charred edges and tips. Exact timing will depend on the size of your vegetable pieces and chunks.
After 15 to 20 minutes of cooking, stir and mix vegetables so that all sides are cooked throughout.
Serve with rice or as desired. Enjoy!
Nutrition Facts 

Amount Per Serving (1 bowl)

 Daily Value*
gr

Fat  

    5g     

Saturated Fat 

2g  

Cholesterol

5mg   

Sodium  

 94mg

Carbohydrates

29g 

Fiber  

6g    

Sugar  

10g  

Protein




 3g