Office Hours:
Mon: 10-5 | Tues: 10-7 | Wed: 10-7 |
Thur: 10-7 | Fri: 9-4 | Sat: 9-3 | Sun: closed
Dr. Sara Razmavar – your Scarborough dentist, and Associates
Proudly serving communities and families of Scarborough, West Hill, Port Union, Highland Creek, Pickering, Woburn, Morningside, Guildwood and Rouge Valley. At Highland Creek Dental, new patients are always welcome!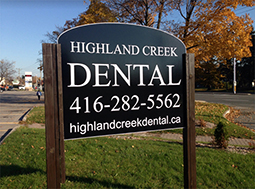 Established in 1998 by Dr. Clive Esty, Highland Creek Dental has proudly served communities from Scarborough, West Hill, Port Union, Highland Creek, Pickering, Woburn, Morningside, Collingwood and Rouge Valley for more than 20 years. Upon retirement of Dr. Esty in 2013, Dr. Mike Douris took over the practice and continued to provide exceptional services in collaboration with a very selective team of Associate Dentists including Dr. Sara Razmavar who joined the team in 2017. Within one year, Dr. Sara became the most favorite Dentist receiving increasing number of compliments and referrals from her patients. Passionate about community, families and her patients, Dr. Sara offered to take over the practice from Dr. Douris who was willing to move on. In 2018, Dr. Sara took over the practice and started to invest in renovation of the office and upgrade of its equipment to the latest technologies to serve patients with the premier standards of the care. She has also devoted her time to create a tranquil environment and a friendly team to provide a pleasant experience for the patients and their children. In Highland Creek Dental, everyone on the team shares the same belief that a beautiful smile is the beginning of love, it will increase your self-confidence and can brighten your life; and, they pride themselves for: "Bringing love to your smile!"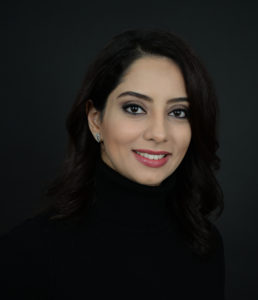 Dr. Sara Razmavar has received her Doctor of Dental Surgery, DDS, in 2010 with honors. Upon graduation, she continued her professional development by investing her time and staying up-to-date with the latest techniques in dentistry. Her dedication awarded by becoming Research Fellow of institute of Dental Science where she issued number of papers in international journals. Later, she was honored to become a clinical instructor at University of Toronto, Faculty of Dentistry.
Dr. Sara believes that the health of the mouth and the health of the body simply cannot be separated. Additionally, she recognizes that a patient's smile and oral hygiene often play an important part in a patient's self-confidence and overall quality of life. Dr. Sara combines her passion for aesthetics and dentistry to help patients attain a radiant smile that they love. In line with her philosophy, Dr. Sara aims to make each patient as comfortable as possible through detailed communication of diagnoses and procedures and to meet each patient's needs through a customized treatment plan. Dr. Sara enjoys helping people and all patients including those with disabilities. Her positive social sentiment is not only limited to dentistry; She is also the board member of Mental Health committee in the Iranian Women's Organization of Ontario (IWOO) where she can give back to the women of her community.
Dr. Sara's Credentials:
Member of the Royal College of Denal Surgery of Ontario (RCDSO)
Member of the Canadian Dental Association (CDA)
Member of Ontario Dental Association (ODA)
Member of Iranian Ontario Dental association (public affairs committee chair)
Member of Academy of General Dentistry (AGD)
Associate Fellow of the International Congress of Oral Implantologists (ICOI)
Graduate of TIDE Implant Mini-Residency
Completed Advanced Implant Continuum (Biohorizon)
At Highland Creek Dental, we've reinvented what it Means to Visit the Dentist. We are a dental practice devoted to restoring and enhancing the natural beauty of your smile in our state-of-the-art dental office. We offer traditional and new cutting-edge dental procedures that will result in beautiful, long-lasting smiles! We thank you for allowing us to take care of your dental needs and look forward to serving you.
Highland Creek Dental offers top-of-the-line cosmetic dentistry, general dentistry, sedation dentistry, and a staff that is completely in tune with your comfort, questions, and concerns. One of the hallmarks of our practice is the attention to details and care we put into every aspect of our business, from our interior design to the aesthetics of your teeth. Dr. Sara is meticulous in the pursuit of excellence in every aspect of this practice. Our team is trained with a hospitality mentality, so our patient coordination feels more like a concierge service and less like a dental office. Our patients become friends and we take care of them as if they were truly a part of our family.
Book Appointment
Thank you for taking the time to select your preferred day and time.  Please be advised that all requested times are not firm appointments and will be reviewed by Highland Creek Dental.  We will contact you to schedule an appointment.
Subscribe to our Newsletter
Follow us on our Social  media